Havana Nights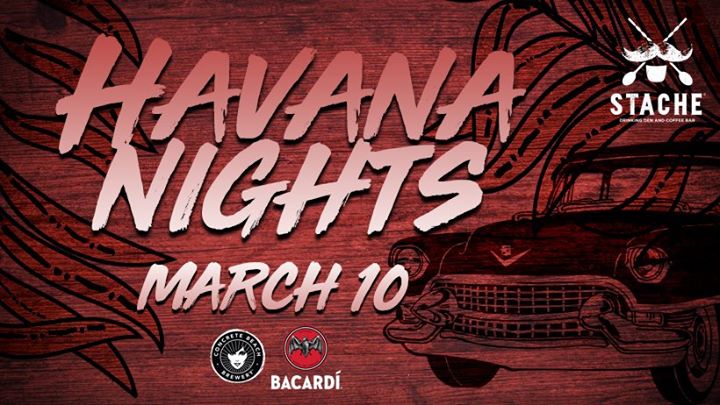 MARCH 10th, Stache invites you to HAVANA NIGHTS, a seductive Summer evening of elevated cuisine, craft cocktails & beer, live Salsa music, dancing and fashion. It's the perfect occasion to break out your finest linen threads, flowers & fedoras, find the perfect date and dive headfirst into the hottest Caribbean party of the year!
Presented by Concrete Beach, Bacardi Rum
Your excursion begins with a sizzling Cuban dinner buffet prepared by executive chef, Jen Knox.
Dinner pairs perfectly Stache's world famous craft cocktails and beer. Enjoy the Cuban spread with a Havana Lager or Mojito.
Calling all Salsa dancers! This is the night when all those lessons and practice pays off. Hailing from the University of Miami's prestigious music school, Murph y su Conjunto! are recognized as some of the most inspired and talented Salsa musicians in South Florida. Between sets and after the show, our DJs spin the hits and keep everyone's hips shaking all night.
It wouldn't be a Havana Nights party without cigars! We'll have plenty of freebies to choose from supplied by local artisan purveyors and provided courtsy of Concrete Beach Brewery!
Make sure to book your tickets early. Space is limited and Havana Nights only comes to Stache once a year.
Admission: $10
Admission + Buffet: $25
Admission + Buffet + Bottomless Cuban Cocktails & Beer: $40
Location